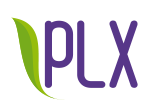 PLX® is an aqueous extract of lemon verbena for sport recovery.
PLX® is an aqueous extract of the leaves of lemon verbena, Aloysia citriodora Palau, titrated in phenylpropanoids, like verbascosides, with powerful antioxidant effects. It was developed by the Spanish company Monteloeder.
Additionally, it contains flavonoids (like luteolin), a category of polyphenols known for their antioxidant properties.
Two preclinical and 6 clinical studies showed PLX® beneficial effects on athletes reducing inflammation, oxidative stress and thus muscle damage and joint mobility and pain. Moreover, it improves sleep duration and mood.
The recommended dose of PLX® for sports recovery is 400 mg of PLX® titrated with 30% phenylpropanoids or 1200 mg of PLX® titrated with 10%.
PLX® is authorized in food and food supplements. Aloysia triphylla (= Lippia citriodora Humb., Bonpl. and Kunth) is part of Belgian Royal Decree of the 29th of August 1997 and Aloysia citriodora Palau is listed in Annex I of "Plants" decree (Decree of 24th June 2014).
Elementa distributes PLX® in France and Benelux countries.
Don't hesitate to contact us or visit our page about PLX® for more information.