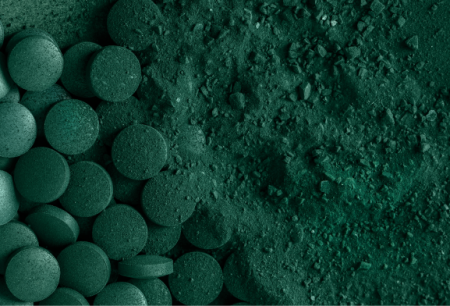 French organic Spirulina
Vitality, immunity & sport
Our French organic spirulina (Arthrospira platensis) is rich in proteins, a source of iron and contains significant amounts of phycocyanin, chlorophyll, omega-6 and beta-carotene.
It is cultivated in France and dried at low temperatures (<40°C), preserving the nutritional qualities of the product as well as the environment.
It is available in powder form, as nibs/vermicelli, and as excipient-free tablets (contains 100% spirulina). It is ideal for food supplements, health-food products and vegan-targeted foods, and is certified organic.
1. What is spirulina?
Our French organic spirulina is made from Arthrospira platensis (also known as Spirulina platensis), which is a cyanobacterium that belongs to the domain Bacteria. This prokaryotic microorganism shares features with bacteria (absence of a nucleus and a Gram-negative cell wall), but also has plant-like features (presence of chlorophyll and ability to carry out photosynthesis). For this reason, it is often associated with algae (ANSES, 2017).
Bleu-green algae — as cyanobacteria are commonly called — appeared on Earth some 3.5 billion years ago. They grow on the surface of warm (25°C), alkaline (pH 8–11.5) freshwaters, and are photo-autotrophic (can harness sunlight). These cyanobacteria measure 0.1 mm in diameter; its cells aggregate, forming green filaments twisted into spirals (Figure 1) (Saranraj et al., 2014; ANSES, 2017; Koru, 2012). The original genus name Spirulina comes from the organism's helical or spiral-shaped filaments.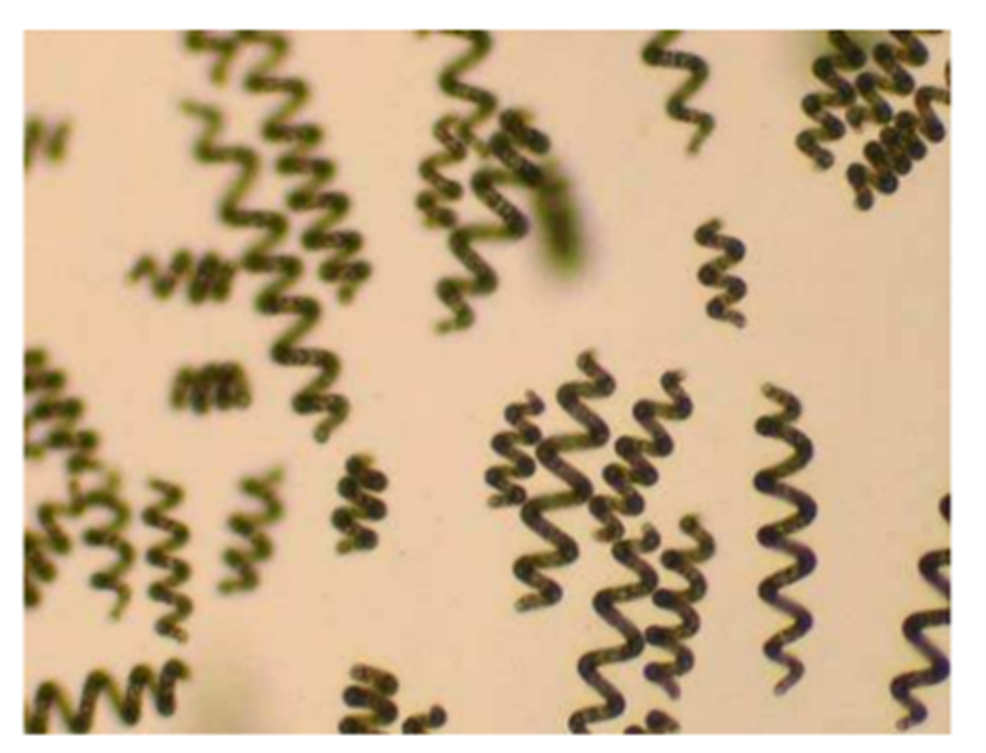 Figure 1. Microscope image of Arthrospira platensis (Koru, 2012)
2. Nutritional composition
According to the WHO, spirulina is the "best food of the 21st century".
Our French organic spirulina contains on average 67% proteins. It is an excellent source of proteins, because they are easy to digest (85% digestibility) owing to spirulina's thin, cellulose-free cell wall (Devi et al., 2018; Elfar et al., 2022).
Moreover, spirulina is a source of complete proteins. Its amino acid composition is one of the best among plant proteins, because it contains all the essential amino acids (Saranraj et al., 2014; Falquet & Hurni, 2006).
For 100 g of biomass, spirulina also provides 6.3 g fiber, 60 mg of iron and on average 40% omega-6 (of the total lipid content).
It also contains pigments such as chlorophyll (green pigment), beta-carotene (orange-colored pigment and a precursor of vitamin A) and phycocyanin (blue pigment, known for its antioxidant properties) (Elfar et al., 2022; see also Hirata et al., 2000). Its average phycocyanin content is 15 g per 100 g spirulina and its average beta-carotene content is 112 mg per 100 g spirulina.
Our spirulina also provides a large range of vitamins and minerals. In particular, it provides 272 mg of magnesium for 100 g of spirulina.
ANSES. AVIS de l'ANSES relatif aux "risques liés à la consommation de compléments
alimentaires contenant de la spiruline." Maisons-Alfort: 2017.
Devi S., Varkey A., Sheshshayee MS., Preston T., Kurpad AV. Measurement of protein digestibility in humans by a dual-tracer method. Am J Clin Nutr 2018;107:984–991
ElFar O. A., Billa N., Lim H. R., Chew K. W., Cheah W. Y., Munawaroh H. S. H., Balakrishnan D., Show P. L. ; Review : Advances in delivery methods of Arthrospira platensis (spirulina) for enhanced therapeutic outcomes. Bioengineered. 2022; 13(6): 14681–14718.
Falquet, J., et J.P. Hurni. "Spiruline - Aspects nutritionnels." : Antenna Technologies. 2006
Hirata T., Tanaka M., Ooike M., Tsunomura T.& Sakaguchi M., Antioxidant activities of phycocyanobilin prepared from Spirulina platensis. Journal of Applied Phycology 12: 435–439, 2000
Koru E. Earth food spirulina (arthrospira): production and quality standarts. Food Additive, 2012. pp 191-202
Saranraj P., Sivasakthi S. SPIRULINA PLATENSIS – FOOD FOR FUTURE: A REVIEW Department of Microbiology, Annamalai University, Annamalai Nagar, Chidambaram-608 002, Tamil Nadu, India. Asian Journal of Pharmaceutical Science & Technology Vol 4 | Issue 1 | 2014 | 26-33.
1. Effects on the immune system
Many studies have suggested that spirulina plays a role in the immune system, due to the anti-inflammatory properties of phycocyanin , for the most part. Owing to its chemical structure, C-phycocyanin also has antioxidant properties and can sequester free radicals (Mao et al., 2005).
The role of phycocyanin in immunity has been the subject of a scientific literature review (Liu et al. 2016). Several studies on animals have shown that C-phycocyanin can improve immunity and help the body prevent and resist infection (Liu et al., 2016).
A randomized, double-blind placebo-controlled study was carried out on 150 people aged 19 to 49 years old with clinical antecedents of allergic rhinitis and showing symptoms thereof during the study (Cingi et al., 2008).
The goal of the study was to assess the effectiveness of spirulina on the symptoms of people suffering from allergic rhinitis .
For 6 months , half of the study population received a daily dose of 2 g of spirulina and the other half received a placebo. Of the 129 patients who followed the treatment for the duration of the study (6 months), 85 had taken spirulina and 44 had been treated with placebo tablets.
The patients also filled out a questionnaire once a week throughout the study to score their symptoms (nasal congestion, runny nose, itchy nose, sneezing).
The results show that the consumption of spirulina significantly improved the allergy symptoms (nasal discharge, sneezing, nasal congestion and itchy nose) compared with the placebo.
Daily supplementation with 2 g of spirulina for 6 months thus led to a significant decrease in allergy symptoms in allergic rhinitis patients (Cingi et al., 2008).
In another study (Selmi et al., 2011), 40 people aged over 50 took 3 g of spirulina a day for 3 months. The goal of this study was to study the role spirulina plays on immune function.
According to the results of this study, the number of white blood cells increased , particularly in the older people. Moreover, the indoleamine 2,3-dioxygenase (IDO) enzyme, which regulates the immune response and contributes to the innate immune response, increased in more than half of the study participants.
Spirulina can thus play a beneficial role in countering immunological dysfunction (immunosenescence) in older people (Selmi et al., 2011).
c. Mao T. K. et al., 2005
Another randomized, double-blind, placebo-controlled study (Mao et al., 2005) was carried out on 36 subjects, aged from 18 to 55 years, with a history of allergic rhinitis, but no other health issues.
The aim of this study was to assess the impact of spirulina on the production of cytokines — and interleukin-4 in particular —, which stimulate the production of inflammatory mediators, source of some allergy symptoms.
The study participants were divided into three groups, one treated with a placebo (group D), one treated with a spirulina-based food supplement at a daily dose of 1 g (group C) and a third supplemented daily with 2 g of spirulina (group U) for 12 weeks .
Blood samples were taken at the onset of the study (T0) and at 12 weeks (T12). Blood cells were cultured with or without phytohemagglutinin (PHA), which stimulates cytokine production.
The results show that after 12 weeks, with a daily consumption of 2 g of spirulina, IL-4 production significantly decreased by 32% with respect to T0 levels.
Supplementation with spirulina thus appears to have an effect on the regulation of some mediators involved in the immune system in allergy patients.
These studies demonstrate the effect of spirulina on the regulation of the immune response and on the attenuation of symptoms related to allergic rhinitis, at a daily dose of at least 2 g.
2. Exercise performance
Several clinical studies have demonstrated the effect of spirulina supplementation on exercise performance , with — in particular — improved muscle strength and reduced fatigue and muscle damage after taking supplements. (Jensen et al., 2016 ; Kalafati et al., 2010)
Practicing a sport and intensive use of muscles lead to the production of free radicals and other reactive oxygen species in the working muscle. This is due to an increase in oxygen consumption in tissues and to the inability of the body to eliminate free radicals. Free radicals cause oxidation within cells, affecting proteins in particular, causing muscle fatigue (Jackson, 1998).
One study has shown that daily spirulina supplements of 7.5 g for three weeks lead to a significant decrease in the plasma concentrations of malondialdehyde , an oxidative stress marker in a group of people who exercise regularly (Lu et al, 2006).
Other studies have demonstrated positive results on markers of inflammation.
Sandhu et al. (2010) carried out a randomized controlled trial on 40 people in good health.
In the trial, the participants were divided into two groups. One group included 20 physically active subjects, undergoing regular sports training; of them, 10 received spirulina supplements and the other 10 received a placebo. The other group included 20 subjects not involved in any sports training; likewise, half (n=10) took spirulina supplements, and the other half took a placebo.
The participants in the supplemented groups received 2 g of spirulina (Spirulina platensis) daily for 8 weeks.
The purpose of the study was to determine the effectiveness of spirulina supplementation on muscle strength and endurance. Two isometric contractions of the quadriceps muscle in the dominant leg were measured to assess muscle strength and endurance (using an HUR1 5340 leg extension/curl computer-controlled instrument).
Between the beginning and the end of supplementation, the supplemented groups — but not the placebo groups — showed a significant increase in average and peak muscle force as well as a significant decrease in the fatigue index (Student's t test).
The figure below shows the measurements of peak force (measured in Newton) before and after supplementation. In the supplemented sports-training group, the average force was 337.4 ± 77.40 N, which is 40% higher than in the placebo group , also practicing intense physical exercise.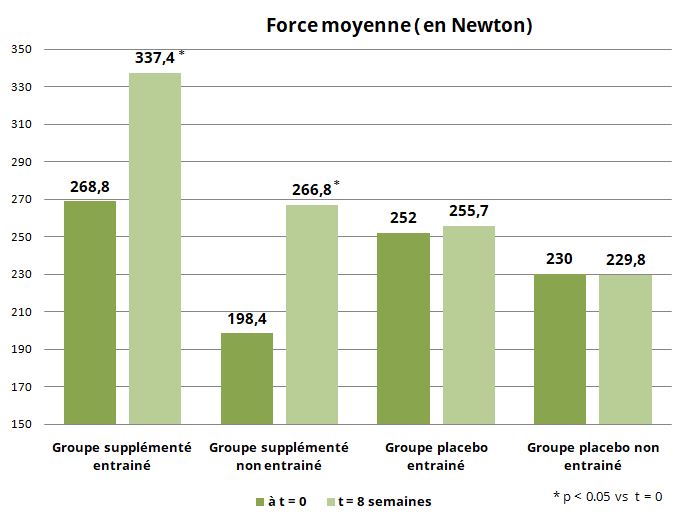 After supplementation, there was a significant difference between the groups in terms of average and peak muscle strength. Moreover, muscle strength in the spirulina-supplemented sports-training group increased more (ANOVA, p<0.01) in those not undergoing any physical training (p<0.05) and significantly so compared with the placebo groups.
Therefore, daily supplementation with 2 g of spirulina for 8 weeks affects muscle strength, particularly in those who practice intense physical activity.
Other studies have been conducted on the role of spirulina on fatigue arising from physical training.
Johnson et al. (2016) did a randomized double-blind controlled study on 17 men in good health to assess their level of mental and physical resistance to fatigue. One group received 3 g of spirulina (Spirulina platensis) per day (6 tablets of 500 mg) for 8 weeks.
After one week, a daily dose of 3 g of spirulina led to a weak, but statistically significant increase in exercise output (calories consumed during 30 min of exercise on a cross-trainer).
Spirulina supplementation improved fatigue in as little as 4 h after taking the supplement and still had an effect 8 weeks later (Uchida-Kraepelin mental fatigue test).
These results show that a daily dose of 3 g of spirulina for 8 weeks can have an effect on fatigue in study participants.
According to the scientific literature, the recommended daily dose varies between 2 and 7.5 g. This dose range is within the recommended doses for health claims.
Cingi C., Conk-Dalay M., Cakli H., Bal C. The effects of spirulina on allergic rhinitis. Eur Arch Otorhinolaryngol (2008) 265:1219–1223
Jackson MJ. Free radical mechanisms in exercise-related muscle damage. In: Reznick AZ, Packer L, Sen CK, Holloszy JO, Jackson MJ (eds) Oxidative stress in skeletal muscle.
Birkhauser Verlag, Basel, (1998) pp 75–86
Jensen GS., Drapeau C., Lenninger M., Benson KF. Clinical Safety of a High Dose of Phycocyanin-Enriched Aqueous Extract from Arthrospira (Spirulina) platensis: Results from a Randomized, Double-Blind, Placebo-Controlled Study with a Focus on Anticoagulant Activity and Platelet Activation. J Med Food 2016 ; 19:645–53.
Johnson M., Hassinger L., Davis J., Devor ST., DiSilvestro RA. A randomized, double
blind, placebo controlled study of spirulina supplementation on indices of mental and
physical fatigue in men. Int J Food Sci Nutr 2016 ; 67:203–6.
Kalafati M., Jamurtas AZ., Nikolaidis MG., Paschalis V., Theodorou AA., Sakellariou GK., et al. Ergogenic and antioxidant effects of spirulina supplementation in humans. Med Sci Sports Exerc 2010 ; 42:142–51.
Liu Q., Huang Y., Zhang R., Cai T., Cai Y. Medical Application of Spirulina platensis Derived C-Phycocyanin. Evid-Based Complement Altern Med ECAM 2016 : 7803846.
Lu H-K, Hsieh C-C et coll. Preventive effects of Spirulina platensis on skeletal muscle damage under exercise-induced oxidative stress. Eur J Appl Physiol. (2006) 98 :220-6.
Mao T.K., Van de Water J., Gershwin M.E. , Effects of a Spirulina-Based Dietary Supplement on Cytokine Production from Allergic Rhinitis Patients. JOURNAL OF MEDICINAL FOOD 8 (1) 2005, 27–30
Mao TK., VAN DE Water J., Gershwin ME. Effect of spirulina on the secretion of cytokines from peripheral blood mononuclear cells. J Med Food 2000 ; 3:135–40.
Our French organic spirulina is produced in the South of France, whose climate offers the right conditions needed for spirulina cultivation.
The spirulina farm holds more than 7000 m² of cultivation tanks. Spirulina is cultivated using environmentally friendly procedures and dried at low temperatures (<40°C), thus ensuring the preservation of the nutritional qualities of the product. Moreover, cultivation is seasonal: spirulina is grown from March to October.
This spirulina is offered in three forms: nibs/vermicelli, powder and tablets.
Our French organic spirulina is cultivated in tanks in greenhouses, which offer the natural light conditions and the warm temperatures that it needs to grow. Moreover, cultivation is conducted in a closed-circuit system, meaning that all the water is recycled.
Spirulina is harvested by pre-filtering it through a sieve and then strained. Any residual water is squeezed out under a vacuum. It is then extruded in spaghetti-like strands, which are spread out and dried at low temperatures (<40°C). Once dried, the strands are broken into nibs/vermicelli that can be further ground into powder and, in turn, pressed into tablets. The cold-pressed tablets are made up of 100% spirulina; no excipients are needed. This spirulina ingredient is certified organic by Ecocert and guaranteed allergen-free.
Organoleptic characteristics
Our French organic spirulina is blue-green in color (the exact shade varies with the natural variations in pigments) with a very mild "algae" taste.
Applications
Food supplements
Sports nutrition
Bakery products
Or as powder to sprinkle on beverages or dishes (smoothies or salads, for example)
There are several plant-based claims pending regarding spirulina that can be used on food supplement labels. These health claims are tolerated by the European Commission and pending evaluation by EFSA. They involve various aspects of health: immunity, vitality, weight management.
At a daily intake of 6*250 mg, "spirulina strengthens the body's natural defenses and favors resistance to infection" (ID 2583).
Some claims have different use conditions. For example, claim ID 2737 is based on a daily dose of at least 6*250 mg: "It enhances vitality, maintains stamina and tonus. For use to reduce temporary fatigue" (ID 2737). However, at a daily dose of 2 g or more, claim ID 2737 allows the following labels: "Helps improve tonus and vitality. Helps reduce fatigue. Helps maintain the body's vitality. Helps to feel energized. Improves vitality/energy."
There are also claims related to weight management and weight loss.
According to Regulation (EC) No 1924/2006, our French organic spirulina is rich in proteins. Moreover, according to the same Regulation, it is also a source of iron at a daily intake of 3.5 g of spirulina. The "high in iron" claim requires a minimum daily intake of 7 g of our spirulina.
Thus, being high in proteins and a source of iron, the following health claims can be used with our French organic spirulina according to Regulation (EC) No 4332/2012:
Proteins contribute to growth in muscle mass
Proteins contribute to the maintenance of muscle mass
Proteins contribute to the maintenance of normal bones
Iron contributes to normal energy-yielding metabolism
Iron contributes to normal formation of red blood cells and hemoglobin
Iron contributes to normal oxygen transport in the body
Iron contributes to the normal function of the immune system
Iron contributes to the reduction of tiredness and fatigue
We recommend a daily dose of 3.5 g of our French organic spirulina to be able to use all the above-mentioned claims and to reap all the health benefits related to immunity and to exercise performance, according to the scientific literature.