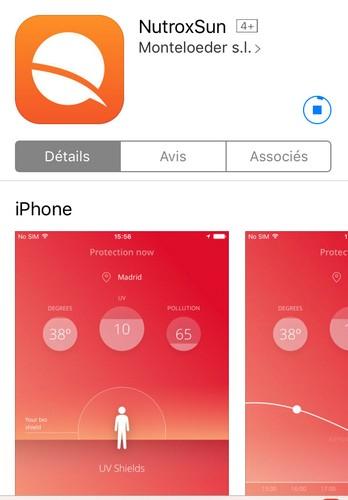 Connected-health: NutroxSun app can reduce UV exposure risks
With a 3 digit growth for health connected devices, Monteloeder had it right!

Its NutroxSun app brings a real added-value to their customers.
NutroxSun is a natural ingredient for dietary supplements. It is an innovative mix from pomelo and rosemary extracts, which protects skin from UV effects by reducing sunburns and aging-effects.
Nutroxsun app has been designed to help, guide and educate customers about skincare.
It is a location-based app able to give you real-time information on:

- Your environment: UV exposure indices, temperature, pollution
- Personnalized advice regarding your skin type to limit UV damages
Personal information (age, skin type, etc.) helps to measure "UV capital" for each customers and therefore to know how long you can safely be exposed to the sun.
The app send you an alert as soon as your UV capital is deplete, so you can either put sunscreen or take a NutroxSunTM pill.
You can also order your NutroxSunTM directly from your smartphone.
=> Download the app on the Appstore
Trend on the dietary supplements market is to go along with the client; it is exactly what the app is all about!
Dietary supplements manufacturers have access to their clients' data and thus will know them better. Therefore, they can obtain efficiency evidences of their products at a worldwide level and seize new commercial opportunities.
Elementa exclusively distributes NutroxSunTM in the Benelux and France. Don't hesitate to contact us!
Learn more about NutroxSun