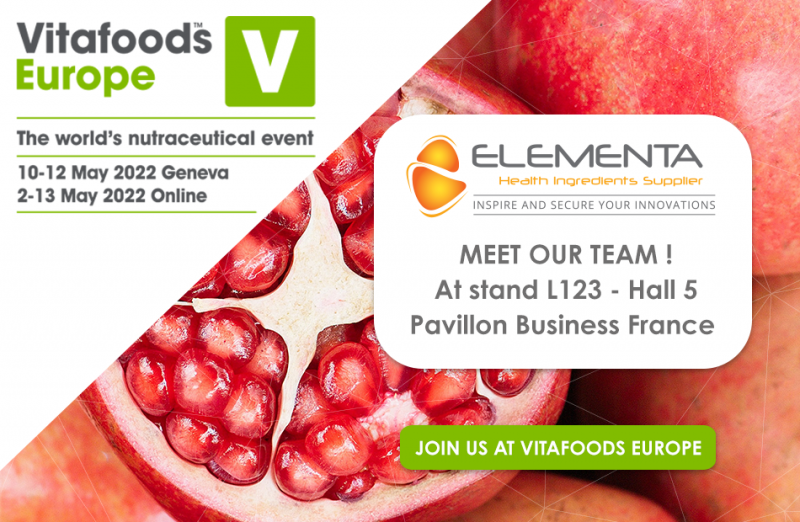 Vitafoods 2022 : New ingredients on the menu, let's make an appointment!
Once again this year, Vitafoods Europe will bring all the players in nutraceutical industry: laboratories and manufacturers of food supplements and dietary food.
There will also be food ingredients distributors, such as Elementa.
Come to meet the Elementa Team in booth L123 - Hall 5.
Do you need to quickly develop innovative dietary supplements?
Do you have a formulation issue/idea?
Are you looking for a specific ingredient?
Meet us on our booth, our experts will advise you :
- Schedule an appointment now for the Vitafoods with Laurent Depelley - Chief Executive Officer :
> I schedule an appointment in Geneva (May 10 to 12)
> I schedule an appointment online (May 2 to 13)
- Schedule an appointment now for Vitafoods with Claudie Augereau - Sales Director:
> I schedule an appointment in Geneva (May 10 to 12)
> I schedule an appointment online (May 2 to 13)
We are going to introduce our new ingredients at the next Vitafoods in Switzerland :
Collavant®N2, native type 2 collagen and Mobilee®, hyaluronic acid for joint health
Omegatex®, ultra-concentrated EPA and DHA omega-3: up to 90% EPA and 80% DHA
MaGOmega™, EPA and DHA in monoglyceride form for greater biaavailability
Organic certified Spirulina and Chlorella from Portugal
Lipinova®, fish oil standardised in Specialized pro-resolving lipid mediators (SPMs), lipid mediators for the resolution of inflammation
Organic certified plant proteins from Europe : rice, pea, faba bean, toasted pumpkin seeds