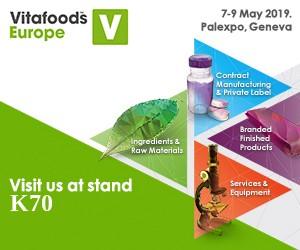 Vitafoods: New ingredients on the menu, let's make an appointment!
Once again this year, Vitafoods Europe will bring all the players in nutraceutical industry: laboratories and manufacturers of food supplements and dietary food.
There will also be food ingredients distributors, such as Elementa.
Come to meet the Elementa Team in booth K70 Hall 5.
Do you need to quickly develop innovative nutritional products?
Do you have a formulation issue/idea?
Are you looking for a specific ingredient?
Meet us on our booth, our experts will advise you:

=> Schedule an appointment now for Vitafoods.
We are going to introduce our new ingredients at the next Vitafood in Switzerland:
Anthocyan® and Extracyan® , blueberry extracts for eye health
Lutein Hi FILTM for eye health
Zeropollution®, a formula to pollution's effects on the skin
Metabolaid®, an ingredient against metabolic syndrom
Extracts of elderberry, chokeberry and blackcurrant, titrated in anthocyanins with antioxidant properties
A new large range of plant proteins for muscle mass
Extract of spirulina titrated in phycocyanin for vitality
We invite you to visit our booth and make an appointment now.