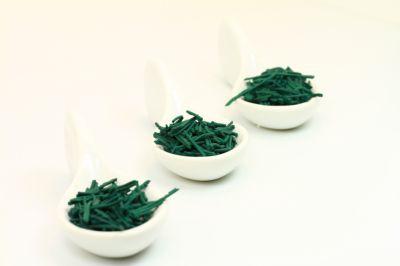 2018 New ingredient : Cyane® organic spirulina
Cyane® spirulina (Arthrospira platensis) from France offers various health benefits.
Cyane® is a superfood rich in iron, source of proteins, vitamins and minerals. It has antioxidant properties thanks to phycocyanin content.
Cyane® is cultivated in Brittany (north-western France) using environmentally friendly practices and has been organic certified by Ecocert since November 2017.
You would be surprised by its excellent level of organoleptic quality and especially its taste.
Various applications are possible in food industry, nutraceutical or cosmetics.
Cyane spirulina is GMO-free and Vegan labeled.
Elementa distributes Cyane® in powder form, filament or tablets in Spain and Benelux countries.
For more information, please read our Cyane's webpage or contact us.