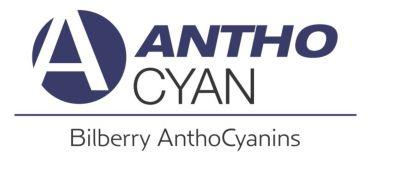 Anthocyan® - A bilberry extract
Eye and chronic diseases
Anthocyan® is a European blueberry (Vaccinium myrtillus L., also commonly called bilberry) extract, rich in anthocyanins, the polyphenols found in blueberries.
Anthocyan® has powerful anti-oxidant and anti-inflammatory properties, conferring it anti-age and protective effects against chronic age- or diet-related diseases. Anthocyan® is particularly beneficial for eye function.
Anthocyan® is available in France, Spain and the Benelux countries.
Anthocyan® is a hydroalcoholic extract of European blueberry (Vaccinium myrtillus), also commonly called bilberry) containing 36% anthocyanins (quantified using HPLC analysis).
A concentration range from 25% to 40% is available.
Anthocyanins are polyphenols with high antioxidant activity. Anthocyanins, found naturally in fruits and vegetables, are plant secondary metabolites belonging to the class of flavonoid compounds.
Vaccinium myrtillus L. is a Northern European variety of blueberry harvested by hand, and different from the northern highbush blueberry (Vaccinium corymbosum) or the lowbush blueberry (Vaccinium angustifolium) species cultivated in North America.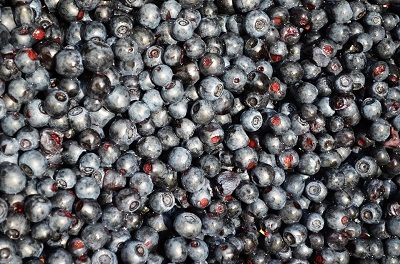 Bilberries contain various anthocyanins, also called anthocyanosides or anthocyans. Anthocyanins are positively charged and are characterized by a glycoside residue at R3. Blueberry anthocyanins include delphinidin, cyanidin, petunidin, peonidin and malvidin.
According to Määtää Riihinen et al. (2004), bilberries have a higher anthocyanin content than highbush blueberries, with a content of between 300 and 698 mg/100 g anthocyanins. For example, there is 5.6 times more delphinidin in bilberries than in highbush blueberries.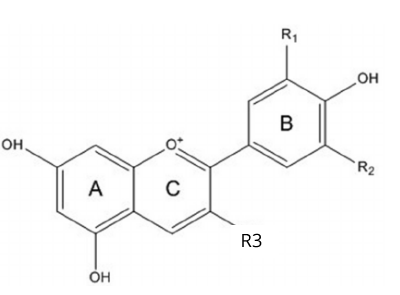 A powerful antioxidant
The independent Brunswik Laboratory database gives the reference values for various fruits and vegetables according to the oxygen radical absorbance capacity (ORAC) test. The ORAC index gives an estimate of the antioxidant capacity of a food based on the oxidative degradation of a fluorescent molecule due to the transfer of hydrogen atoms to free radicals.
Figure 1 shows that the ORAC values for bilberries are nearly double that of wild blueberries and are around 1.6 times higher.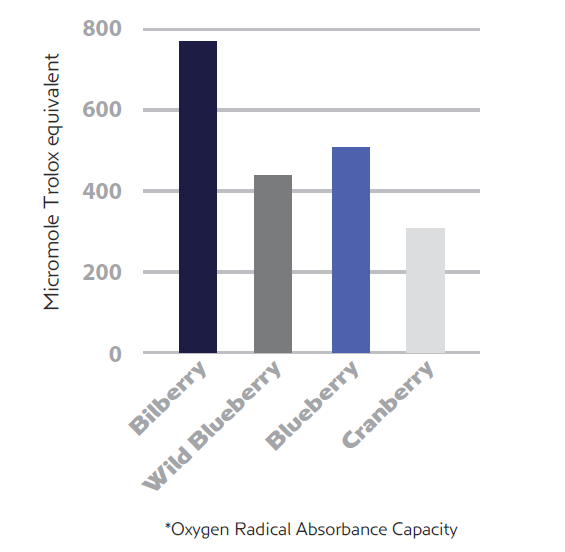 Study on animal models
Talavera et al. (2004) carried out a study on an animal model to assess the bioavailability of bilberry extracts and the impact of bilberry extract supplementation on the antioxidant status of plasma.
The Anthocyan® 50 bilberry extract contains 83% anthocyanins. In the study, 25 rats received 12 g bilberry extract/kg food for 8 days (i.e. 25 g food/day, 1.43 mg anthocyanins/kg body weight). Their diet was deficient in vitamin E.
The ferric reducing ability of plasma (FRAP) index measures the antioxidant potential of plasma based on its reduction of ferric ions.
The figure below shows FRAP values 3 and 6 h after meals in the supplemented group and in the control group. There is a significant improvement in the antioxidant capacity of the group fed bilberry extracts compared with the control group (p<0001).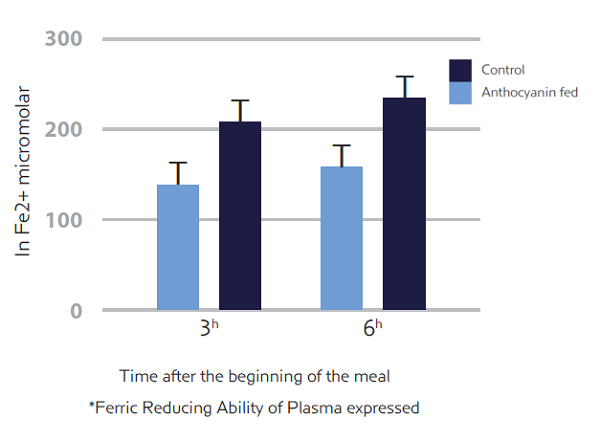 Anthocyan® is a powerful antioxidant, helping to preserve human health
In their review article, Zafra-Stone et al. (2007) explain the role of anthocyanins tested in various in vitro and in vivo studies. Anthocyanins play multiple roles in cardiovascular disease, age-related oxidative stress, inflammatory responses and various chronic diseases. Additional results indicate a role in eye function.
Role in eye health
Various studies have shown that anthocyanin-rich bilberry extracts can have a beneficial effect for eyes, particularly with regard to protection against UV rays and eye fatigue.
The Aly et al. (2014) placebo-controlled study carried out on an animal model (rat) evaluated the effects of UVB rays on eye damage and the impact of bilberry extract supplementation.
The supplemented groups received 160 mg bilberry extract (twice a day) for 15 days before a 15 min exposure to UV rays (1 = 300 nm at 5 kJ/m²).
In the study, 40 rats were divided into four groups (control, eyes exposed to UVB, UVB+ bilberry extract, bilberry extract).
DNA damage in the lens was measured by electrophoresis (comet assay) of lens epithelial cells, as well as the concentration in oxidative enzymes (MDA) and antioxidant enzymes (SOD, GSH-Px and CAT).
Taking bilberry extracts reduced the quantity of damaged epithelial cells.
Bilberry extracts have a protective effect with regard to UVB rays.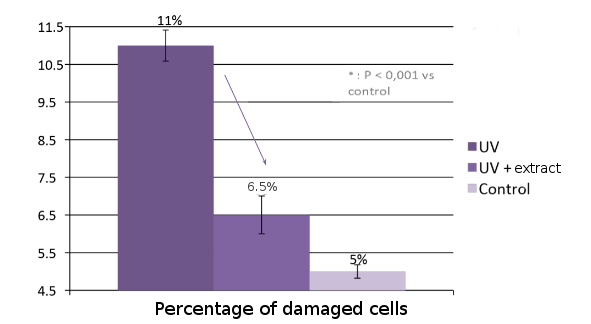 Similarly, there is a significant decrease in MDA levels and, to a lesser degree, in SOD enzymes in the UVB-exposed group that received bilberry extracts compared with the control UVB-exposed group.
In conclusion, taking 320 mg bilberry extract for 15 days in rats helps protect eye lenses against UVB rays. The consumption of bilberry extract limits the degradation of lens epithelial cells and their DNA by improving the antioxidant defense mechanisms that are inherent to these cells.
Anthocyanin can thus help preserve eye health.
In a randomized double-blind placebo-controlled study, Ozawa et al. (2015) studied eye fatigue in 281 Japanese video display terminal workers aged 20 to 40 years and in good health. The non-placebo group received supplementation of 480 mg bilberry extract/day for 8 weeks.
At 4 and 8 weeks, there was a significant decrease (compared to 0 weeks and the placebo group) in various ophthalmological parameters linked to visual fatigue, including: eye fatigue, eye pain, dry eyes, heaviness in the eye area (only compared with placebo after 8 weeks), double vision and discomfort.
Anthocyan can thus has an effect on eye fatigue
Maatta-Riihinen et al. 2004. Distribution and contents of phenolic compounds in eighteen Scandinavian berry species. J. Agric Food Chem. 52 (14): 4477-36.
Brunswik laboratoire, database, consulté en Février 2018 <https://brunswicklabs.com/technical-library/orac-database/>
Talavera, Bioavailability of a bilberry anthocyanin extract and its impact on plasma antioxidant capacity in rats. 2006, J Sci. Food Agric, 86:90-97.
Zafra-stone et al. Berry anthocyanins as novel antixoidants in human health and diseaser prevention. Mol Nutr Food Res, 2007, 51, 675-683.
Aly, M. A. Ali, 2014; Effects of Bilberry on Deoxyribonucleic Acid Damage and Oxidant-Antioxidant Balance in the Lens, Induced by Ultraviolet Radiation. Malays J Med Sci. Jan-Feb 2014; 21(1): 11-18.
Ozawa, M. Kawashima et al. 2015. Bilberry extract supplementation for preventing eye fatigue in video display terminal workers. J. Nutr Health Aging. 19, n°5, 2015.
Anthocyane® is authorized in France for food supplements.
In France, Vaccinium myrtillus is listed in Annex I of the French "Plants" decree of 24 June 2014 establishing the list of plants authorized in food supplements and the conditions of their employment (authorized plant parts: fruit, leaves).
In Belgium, Vaccinium myrtillus is listed in the Belgian Royal Decree of 29 August 1997 on plants on the manufacture and marketing of foodstuffs constituted or consisting of plants or plant preparations of (authorized plant part: fruit).
The standardized extract is also described in the European Pharmacopeia.
Bilberries, being consumed in Europe since before May 1997, are not subject to Regulations (EU) nos. 2015/2283 and 258/97 on novel foods.
Anthocyanins are blue pigments and are also defined as food colorants (E163) according to Regulation (EU) no. 1333 2008 on food additives.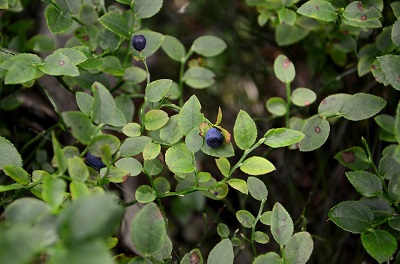 Anthocyanin is a hydroalcoholic extract in powder form (color: dark blue).
A wide range of concentrations are available: from 25 to 40% anthocyanins.
Anthocyanin is water soluble. It can also be encapsulated with maltodextrin or gum arabic matrices.
Based on their own studies and on the literature, Frelux recommends a daily dose of 70-120 mg anthocyanins.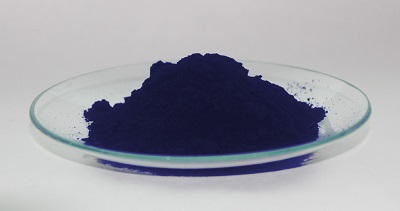 Various pending claims related to bilberry extracts or extracts thereof with known anthocyanin content are tolerated by the European Commission, including effects on eye health, vascular health and digestive tract health and antioxidant effects.
Antioxidant:
"Bilberry is rich in the antioxidants anthocyanidins" ( ID 2854, bilberry extract )
"Antioxidants can protect from free radicals and helps in case of foods intake deficiency or increased amount of nutrients. "( ID 3706, bilberry extract )
Eye health:
"The antioxidant anthocyanosides in bilberry help maintain the proper retina functions." (ID 1295, bilberry fruit )
"May help maintain eye health through anti-oxidant and vascular effects." (ID 2001, bilberry extract)
Vascular health:
"Bilberry anthocyanosides can help capillary wessels health and elasticity of veins against harmful effect of free radicals." (ID 1297, bilberry fruits)
"May help maintain vascular integrity" (ID 2002, bilberry extract )
There are also allegations on intestinal health.